I dette blogginnlegget skal jeg redegjøre for konsekvensene av førerløse biler i utgangspunkt i dispruptiv innovasjon. Hvilke endringer førerløse biler kan ha for bilindustrien i fremtiden?
I England åpner de opp for at førerløse biler skal bli tillat til å kjøre på offentlige veier .I California i USA åpner de opp for at førerløse biler skal bli tillat på offentlige veier. Volvo er i ferd med på teste ut 100 førerløse biler på en 50 km veistrekning i Gøteborg i løpet av 2017. Audi er den første bilprodusentensom har fått lisens til å teste sine førerløse biler i California. Det er flere krav som må oppfylles for at får lov til å teste sine førerløse biler. De førerløse bilene må forsikres til 5 millioner dollar.
En førerløs bil styres ved hjelp av at bilen har sensorer og kameraer som registrerer ,trafikkmengden fartsgrense og farer i trafikken, hvis det kommer en litt ustødig syklist i veien så er det mer sannsynlig at en manuell sjåfør kjører på syklisten enn en maskindrevet bil ville gjort. Bilen styrer seg selv ved hjelp av en maskin og sensorer ,sjåføren trenger bare å gjøre en ting og det er å trykke på en knapp. Førerløse biler kan være med på å senke ulykkesstatistikken drastisk, da de aller fleste ulykker enten små eller alvorlige dødsulykker skylles menneskelige feil. Det kan være med på å senke ulykkestallene der ulykkene skyldes kjøring i ruspåvirket tilstand, siden en maskindrevet bil ikke kjører i ruspåvirket tilstand.
Brad Templeton en internettpioner sier at  ulykkesstatistikken kan bli senket betraktelig siden de fleste av ulykkene skyldes menneskelig svikt. Det kan også som Brad Tempelton sier være med på å senke kostnadene som brukers på reparere og vedlikehold av biler. Bare i Oslo bulker man biler for 71 millioner kr i året i parkeringssituasjoner. Sensorer og kameraer som registrer når man er i ferd med å bulke en bil vil slike kostnader omtrent bli helt borte.
Dette med førerløse biler er helt i startfasen Google har 100 førerløse biler prototyper ute på en testbane nå. Volvo vurderer å teste mulighetene for førerløse biler i løpet av 2017 om 2 år. Derfor så er ikke all teknologi helt 100% utviklet enda, Googles førerløse bil ,er en toseter, som kjører i 40 km/t. Det er ikke tilrettelagt for at man kan kjøpe førerløse biler enda. Det veldig mange lurer på er hvem er det som har ansvaret om to førerløse biler kolliderer med hverandre? Andreas Ekenberg som jobber for Volvo sier at Volvo er i tett dialog med trafikkverket om hvordan de skal løse denne problemstillingen. Siden førerløse biler er helt i startfasen er det også usikkert hva som er kostnadene på en førerløs bil i avgifter og forsikringer når de blir lagt ut for salg .Den er ikke tilrettelagt for alle slags veier enda og alle slags kjøreforhold. Det som kan være utfordrerne for Google og Volvo og andre bilprodusenter som vurderer å teste ut førerløse biler, kan være markedsføringen. Det kan være utfordrerne og prøve å overbevise en potensiell kjøper at man ikke behøver å styre bilen i det hele tatt. At kjøpere stoler såpass mye på selve teknologien at man er villig til å investere pengene i en førerløsbil. For at en førerløs bil skal bli en suksess i Norge må den kunne brukes i bratte bakker så vel som på breie motorveier. Fra Oktober – April så er det kjøreforhold basert på vinterføre i Norge. Da må den førerløse bilen være i stand til å takle all slags føre fra ubrøyte veier med mye snø til speilblanke veier. Med sensorer som tilpasser fart og kjøring etter kjøreforholdene kan dette være med på å senke ned ulykkesstatistikken om vinteren.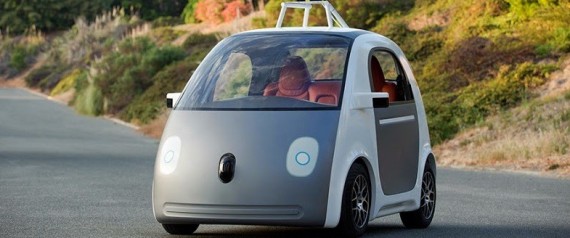 Bilde er tatt fra Tu.no og Journalist Mari Gisvold Garathun har skrevet artikkelen.
Hvis man tenker seg om 10 – 20 år der førerløse biler har blitt helt vanlig i den globale og internasjonale bilbransjen hva slags konsekvenser vil dette få om man ser på det fra en disruptiv innovasjons ståsted  dispruptiv teknologi blir definert som en nyskapende teknologi som påvirker veldig stor grad det eksisterende markedet. Det at man baserer seg på en teknologi i fremtiden der man ikke trenger en fysisk sjåfør til å kunne kjøre bilen , vil dette påvirke hele bilbransjen fra lover og regler ,salg og vedlikehold. Dette vil da kunne revolusjonere hele bilbransjen. Det vil forandre hvordan de som jobber i transportbransjen gjør sitt arbeid, førerløse biler er ikke testet ut på alle slags type biler enda men at det kommer på varebiler og lastebiler i fremtiden er det en stor sannsynlighet for. De som selger biler hos bilvareforretninger de må tilegne seg en helt annet kunnskap, med førerløse biler skal de selge en bil med en datamaskin som styrer bilen ,da må bilselgere tenke annerledes i sin salgsstrategi enn om man skulle solgt en helt vanlig bil med ratt og pedaler.
Det kommer til å endre bransjene der man er avhengig av å bruke bil i jobben sin for å enten frakte varer og pakker som Oslo budservice eller frakte mennesker som Oslo Taxi. De som arbeider i dag med å sette på plass ratt og pedaler i biler blir da overflødig på sin arbeidsplass. Det man vil trenge i bilbransjen i fremtiden er mennesker som har mer teknologisk kompetanse ,ha kunnskap om hvordan sensorer ,kameraer fungerer i de fremtidige førerløse bilene. De som arbeider på bilverkstedene i dag vil i fremtiden trenge helt annen kunnskap, og med tiden vil sannsynligvis de som har kompetanse på datamaskiner og teknologi overta jobbene til de som arbeider med å reparere ratt og pedaler i dag.
Det som i dag trengs 10 – 20 personer  for å reparere en bil vil i fremtiden kreve 1- 2 datakyndige personer, med kunnskap om kjøreroboter, GPS teknologi og kjøre kameraer. De som kommer til å merke endringer i bilbransjen ,hvis førerløse biler blir allmenn eie på lik linje med en vanlig bil i dag , er kjøreskolene de som lærer mennesker til å kjøre bil. Det er ikke dermed sakt at absolutt alle kommer til å ha førerløse biler i fremtiden at vanlige biler blir helt borte .De kan merke det på etterspørselen og at færre i fremtiden ønsker å lære å kjøre vanlig bil. Dette kan føre til færre stillinger blant kjøreskolene globalt. Det er ikke bare bilbransjen som vil merke store endringer ved førerløse biler. Utrykningspolitiet (UP) vil også merke stor forskjell det er de som gir vanlige sjåførene bøter og straff hvis de ikke opprettholder trafikkloven. At de kjører i for høy hastighet, snakket i mobilen når man kjører, og kjører i ruspåvirket tilstand.
Hvordan skal UP forholde seg til førerløse biler? Dette går igjen på hvem som har skylden hvis to førerløse biler kolliderer .En førerløsbil som med sensorer og kameraer som senker farten og tilpasser hastigheten etter forholdene, og der en sjåfør kan i prinsippet drikke foran rattet siden man ikke kjører selv.Utrykningspolitiet må da lage et helt nytt sett med regler for hva som gjelder for en førerløs bil. UP kan med tiden bli der UP i dag , arbeider med å opprettholde trafikkreglene og sørge for at man ferdes trygt på veien som vanlig sjåfør, med sensorer og kameraer som styrer bilen så kan en sjåfør snakke i mobil ,lese avisen, og sove i førersetet noe UP må ta hensyn til i et nytt lovverk. Det vil ta tid føre man ser førerløse biler på veiene og det er ikke sånn at om 5- 10 år så vil absolutt alle førerløse biler bli borte fra markedet. Først må man se etter om det er markedet for det. Er det marked for førerløse biler og er sjåføren villig til å stole 100% på teknologien? Det er opp til forbrukeren å bestemme om dette er en teknologi vi har brukt for og hvor mye forbrukeren er villig til å betale for en førerløs bil mot en vanlig bil.
Arne Krokan sier i i forelesnig nr 2. at det er mye teknologi som er tilgjengelig for forbrukeren som ingen benytter for at det ikke er marked for det og at ikke forbrukeren ser nyttet av det. Det er allerede mye teknologi i bilene , ryggekamera, biler som parkerer for deg , som lukeparkere for deg. alkolås.Biler som piper om du er for nærme gjenstander og biler som dirrer om du er for nære den hvite vei skulderen. Med tanke på forbrukeren kan det være herlig etter en endt arbeidsdag og slippe å konsentrere seg og bare slappe av i passasjersetet uten å konsentrere seg om trafikken rundt. At man føre jobb kan sove en 20 – 30 min lengre og slippe å konsentrere seg om den tette trafikken på veiene på morgningen så er man helt uthvilt og klar for å gå på jobb kl. 08:00. Førerløse biler er først og fremst tilpasset trafikk i storbyer så de aller første førerløse bilene i Norge blir nok mest sannsynligvis å se i Oslo ,Akershus, eller Bergen. Det er nok taxien og bussene i storbyene som kommer til å bli hovedkonkurrentene til førerløse biler.
Hva mener dere kommer førerløse biler til å påvirke bilbransjen i stor grad? og Hvordan stiller du deg til førerløs bil kommenter under blogginnlegget.  David Normann- Larsen
Kildeliste:
Andreas Ekenberg  Avsnitt 3 Vi prøver førerløs Volvo. Utsagn fra Andreas Ekenberg her hentet fra 11:00 minutter ut i programmet.
Ansvaret  Førerløs bil satte fartsrekord  vg.no
Audi      Audi Google og Mercedes – Benz skal teste førerløse biler i California e24.no
Bilbransjen En førerløs bil kan erstatte 14 vanlige  tu.no
Brad Templeton Brad Templeton on self driving cars and  the future of robot Automatics  wired.co
Disruptiv innovasjon  Hvordan utvikles ny teknologi ?  arnek.wordpress.com
Disruptiv teknologi Dispruptiv teknologi  wikipedia.org
England     Tillater  førerløse biler på veiene i  januar afenposten.no
Førerløse biler Når bilene  tenker selv  folkebladet.no
Google  Tillater førerløse biler på veien i januar  aftenposten.no
I Oslo Vi bulker og stikker av for 71 millioner  i Oslo dittoslo.no
Kostnader Førerløse  biler kan komme i  2016 teknofil.no
Lastebiler  Se hva sjaføren gjør mens lastebilen kjører i 80 km/ t   nrk.no
Tu.no bilde i denne bloggoppgaven her hentet fra denne siden.
Ulykker Menneskelige feil i de fleste ulykker Aftenbladet.no
Volvo VG testet selvkjørende Volvo midt i Gøteborg vg.no
by